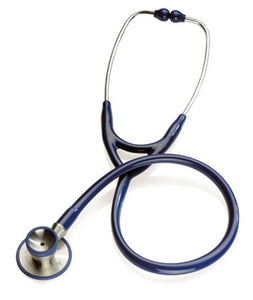 The double stainless steel chestpiece with 48 mm diameter membrane and 26 mm diameter bell has a unique deep cone shape, for increased sound sensitivity and ideal transmission of low frequency sounds for cardiology.
The two in one tube system is latex free. With a thick walled construction to reduce stray noise and improve sound transmission.
PVC rings for both membrane and cone to avoid cold shock.
Corrosion resistant light alloy binaurals include twin springs for durability and comfort.
Comfortable, soft ear tips exclude stray noise. Included are 2 sets of replacement tips (medium and soft), a replacement membrane and one chill ring.
Latex free tubing.