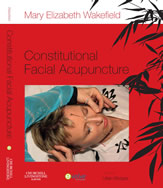 This book introduces a complete Constitutional Facial Acupuncture protocol that is comprehensive, effective and clearly organized, with illustrative color photographs and facial needling diagrams. Its strong constitutional components are unique, adhere to the principles of Chinese medicine, and are rooted in the three levels of treatment - Jing, Ying and Wei.
A new and detailed Constitutional Facial Acupuncture protocol highlights acu-muscle points, Shen imbalances, lines and wrinkles, needling technique, relevant points and their locations.

 

A comprehensive constitutional treatment approach

 

A customized, modular topical herbal protocol that is enriched with the use of essential oils and natural cleansers, creams, etc.

 

Practical step-by-step instructions on how to integrate the needling protocols with the topical herbs, jade rollers, gem eye discs, etc.

 

A complete Constitutional Facial Acupuncture needling protocol for 12 problematic areas of the facial landscape, i.e., droopy eyelids, sagging neck, crow's feet, sunken cheeks, etc.

 

Contraindications, benefits, and personal advice drawn from the author's 30+ years of experience

 

An essential text for students or practitioners of facial acupuncture, and also for those readers who are interested in the field of "healthy aging"
357 pages