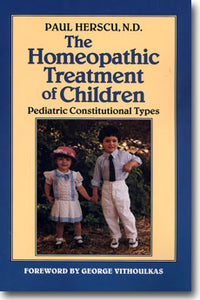 Paul Herscu helps fill the gap in pediatric materia medica with wisdom gathered from dedicated study of homeopathy and years of clinical experience working with children. Herscu includes vignettes about each remedy as well as useful clinical pearls for distinguishing similar remedies, which enhance the readability of his distinguished and straightforward presentation of eight common childhood remedies.
Homeopathic Treatment of Children has become a valued resource to parents and homeopathic students and practitioners for understanding the particular presentations of some of the most common polycrest remedies seen in children: Calcarea carbonica, Lycopodium, Medorrhinum, Natrum muriaticum, Phosphorus, Pulsatilla, Sulphur, and Tuburculinum.
Each remedy in Homeopathic Treatment of Children includes:
Mental Emotional Characteristics
Sleep
Physical and General Symptoms
Notes on Infants
Brief Summary Outline
Confirmatory Checklist
Paul Herscu, N. D. , teaches a five-year course on homeopathy at the Swedish Acadamy of Classical Homeopathy in Goteborg, Sweden. He also lectures in England, Canada, and the United States. He is the founder and director of the New England School of Homeopathy.
374 pages