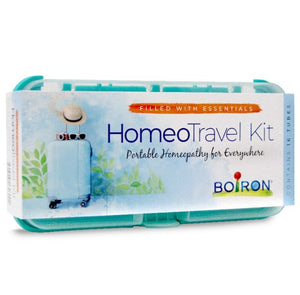 These 16 remedies and the sturdy, easy-to-carry travel case are $165 if purchased separately but you can purchase the kit for only $85! Take them everywhere you go!
Kit measures: 7.5"W x 3.5"D x 1.75"H
Includes the following remedies:
Aconitum napellus 30C; Apis mellifica 30C; Arnica montana 30C; Arsenicum album 30C; Belladonna 6C; Cinchona officinalis 30C; Cocculus indicus 6C; Coffea cruda 30C; Colocynthis 6C; Ferrum phosphoricum 6C; Gelsemium sempervirens 30C; Histaminum hydrochloricum 30C; Hypericum perforatum 30C; Magnesia phosphorica 30C; Nux vomica 30C; Podophyllum peltatum 30C.