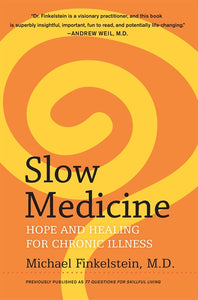 Everything is inter-dependent—muscles and nerves, bodies and minds, people and planet
– and each connecting thread has a domino effect on the other. To achieve and sustain
optimal health, we need perspective that goes beyond the obvious symptoms. We need to
become aware of each area of our lives and explore how to optimize our wellness, not
only within each of these areas – through nutrient-dense foods, a loving partner, artistic
expression, and so on – but also through their harmonious integration.
The best "quick fix" for your health, it turns out, is not a quick fix at all; rather, it is Slow
Medicine – a methodical, step-by-step process of asking questions that lead to awareness that
turns into action that results in optimal health. Slow Medicine: Hope and Healing for Chronic
Illness is endorsed by the likes of Mehmet Oz, MD, Tonya Lewis Lee, and Andrew Weil, MD. In
this ground-breaking book, Michael Finkelstein, MD, FACP, ABIHM, The Slow Medicine
Doctor, guides you through his Slow Medicine prescription. In the process, he helps you
discover unexpected treasures on the path to wellness, including a heart-centered life
fueled by passion and purpose.
354 pages