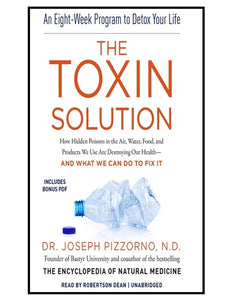 In The Toxin Solution, Dr. Pizzorno provides the proven detox and tailored methods he has developed to heal toxic overload and restore health in just eight weeks. With this essential guide you will learn how to:
Avoid toxins in food and the products you use;
Mend your gut and prepare for detox;
Support your body in releasing the chemicals;
Repair some of the damage toxins have caused.
Fortunately, our bodies have a tremendous capacity for healing and recovery. With The Toxin Solution you will discover how releasing and avoiding toxins can help you to feel better today—and every day for the rest of your life.
280 pages paperback